Definition of 'language'
Word forms:
plural
languages
1.
countable noun
A
language
is a system of
communication
which consists of a set of sounds and written symbols which are used by the people of a particular country or region for
talking
or writing.
...the English language.
Students are expected to master a second language.
Holidays are for seeing the sights, hearing the language and savouring the smells.
2.
uncountable noun
Language
is the use of a system of communication which consists of a set of sounds or written symbols.
Students examined how children acquire language.
Language is not art but both are forms of human behavior.
3.
uncountable noun
You can
refer
to the words used in
connection
with a particular subject as
the
language
of
that subject.
...the language of business.
4.
uncountable noun
[

adjective

NOUN

]
5.
uncountable noun
The
language
of a piece of writing or speech is the style in which it is written or spoken.
...a booklet summarising it in plain language.
The tone of his language was diplomatic and polite.
Mr Harris has not been afraid to use language that many in his party despise.
6.
variable noun
You can use
language
to refer to various means of communication involving recognizable symbols, non-verbal sounds, or actions.
Some sign languages are very sophisticated means of communication.
...the digital language of computers.
COBUILD Advanced English Dictionary
. Copyright © HarperCollins Publishers
Video: pronunciation of
language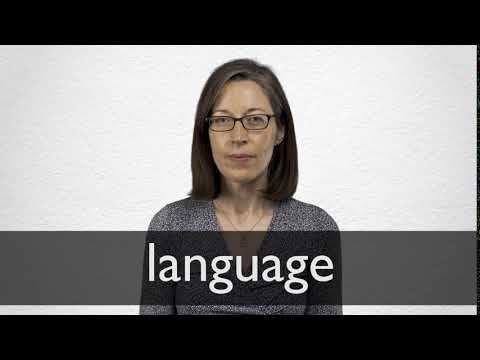 language
in American English
Webster's New World College Dictionary, 4th Edition. Copyright © 2010 by Houghton Mifflin Harcourt. All rights reserved.
Word origin
ME < OFr
langage
<
langue
, tongue < L
lingua
, tongue, language, altered (by assoc. with
lingere
, to lick) < OL
dingua
< IE *
dṇhwa
> OE
tunge
,
tongue
Quotations
Language is the dress of thought
Lives of the English Poets: Cowley
After all, when you come right down to it, how many people speak the same language even when they speak the same language?
The Lion of Boaz-Jachin and Jachin-Boaz
We've come intil a gey queer time
Whan scrievin Scots is near a crime
"There's no-one speaks like that", they fleer
But wha the deil spoke like King Lear?
Epistle to John Guthrie
One does not inhabit a country; one inhabits a language. That is our country, our fatherland - and no other
Anathemas and Admirations
Everything can change, but not the language that we carry inside us, like a world more exclusive and final than one's mother's womb
By Way of an Autobiography
In other languages
language
British English
:
language
/
ˈlæŋɡwɪdʒ
/
NOUN
A language is a system of sounds and written symbols used by the people of a particular country, area, or tribe to communicate with each other.
...a foreign language.
Related terms of
language
New from Collins
quick word challenge
quiz review
Drag the correct answer into the box.
The horse's
can be washed at the same time as his body.
Which version is correct?
Drag the correct answer into the box.
The smell was really quite
.
Drag the correct answer into the box.
The nurse
the thermometer and put it under my arm.
Which version is correct?
the formal title of the Japanese emperor , esp when regarded as a divine religious leader
Are Brexiety and flextensions finally behind us?
We look back on the words that emerged out of the long-running Brexit saga and wonder if we will have any further use for them.
Read more
The evolution of English
Last month saw the publication of the new fourth edition of the Collins COBUILD English Usage, an in-depth guide to modern and authentic English. To celebrate this event, we thought we'd look at some of the ways in which English usage is evolving in today's world.
Read more
Collins English Dictionary Apps
Download our English Dictionary apps - available for both iOS and Android.
Read more
Collins Dictionaries for Schools
Our new online dictionaries for schools provide a safe and appropriate environment for children. And best of all it's ad free, so sign up now and start using at home or in the classroom.
Read more
Word lists
We have almost 200 lists of words from topics as varied as types of butterflies, jackets, currencies, vegetables and knots! Amaze your friends with your new-found knowledge!
Read more
Learning English: Making suggestions when travelling
Take a boat? Stay overnight somewhere? This article looks at some useful phrases you can use when discussing options about what to do when travelling.
Read more
13th edition of the Collins Dictionary out now!
Updated with all the very latest new words and senses, this new 13th edition is an unparalleled resource for word lovers, word gamers, and word geeks everywhere. #homeoflivingenglish
Read more
New collocations added to dictionary
Collocations are words that are often used together and are brilliant at providing natural sounding language for your speech and writing.
Read more
Join the Collins community
All the latest wordy news, linguistic insights, offers and competitions every month.
Read more
Unlock language with the Paul Noble method
No books. No rote memorization. No chance of failure. Your chance to have a one-to-one lesson with best-selling language expert Paul Noble, try a FREE audio sample of his brand new Mandarin Chinese course.
Read more
支付宝扫雷二维码大全quick word challenge
支付宝扫雷二维码大全quiz review
Drag the correct answer into the box.
Children were asked to work with a
.
councillor or counsellor?
Which version is correct?
Which version is correct?
Which version is correct?
Drag the correct answer into the box.
I will
them not to go there.